Are you prepared to transform the way you handle data analytics and machine learning for marketing? Discover the advantages of AutoML with our upcoming webinar on " 𝐔𝐧𝐥𝐨𝐜𝐤𝐢𝐧𝐠 𝐌𝐚𝐫𝐤𝐞𝐭𝐢𝐧𝐠 𝐒𝐮𝐜𝐜𝐞𝐬𝐬 𝐰𝐢𝐭𝐡 𝐍𝐈𝐊𝐎 𝐀𝐮𝐭𝐨𝐌𝐋".
Date: OCT 04, 2023
Time: 10 am CTM 8+ hours
Duration:Approximately 45 minutes
Location: Online – Register for Free
Why Attend?
In today's fast-paced world, data-driven decision-making is crucial for success. However, not everyone has the time or expertise to dive into complex machine learning models. That's where no-code Auto Machine Learning (AutoML) comes in!
In this webinar, you will:
Explore NIKO AutoML platform's powerful features
       2.
Discover how NIKO empowers data-driven decision-making with the help of machine learning
       3. Learn from practical AI use cases in marketing
Who Should Attend?
Business Leaders
Data Analysts
Data Scientists
Developers
Marketing managers
Anyone interested in leveraging the power of machine learning without coding expertise
Don't miss this opportunity to gain a competitive edge in your industry. Register for our free webinar and unlock the potential of no-code Auto Machine Learning for your organization.
Click Here to Register Now.
About the Host
NIKO is a leading provider of innovative data analytics solutions, dedicated to making machine learning accessible to everyone. Our no-code AutoML platform empowers organizations of all sizes to harness the full potential of their data.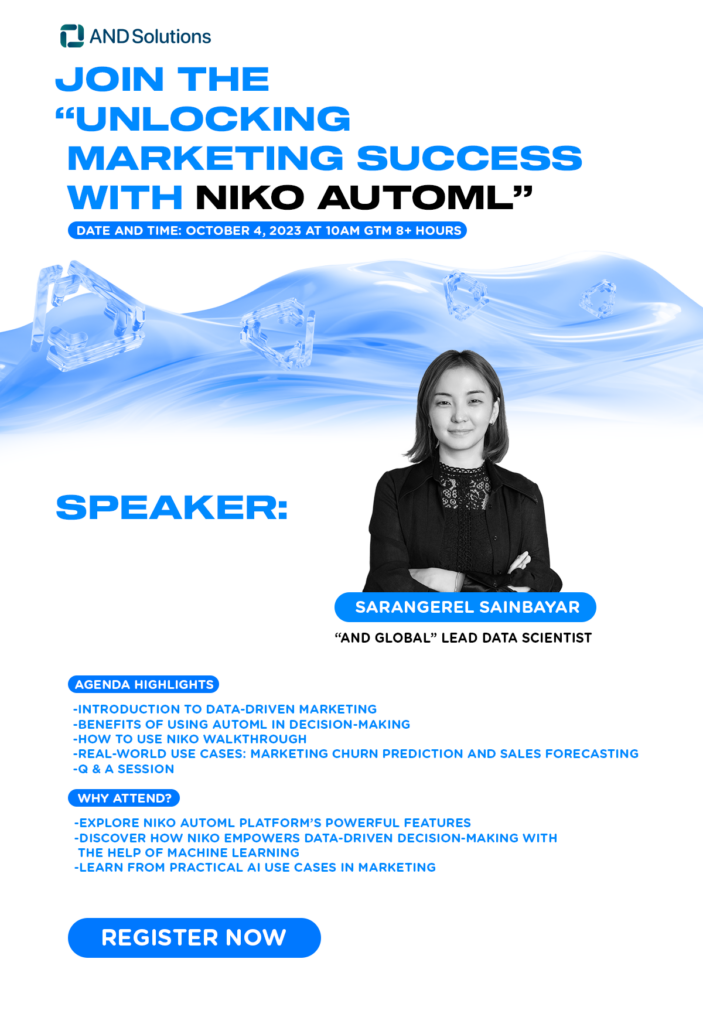 Stay Connected
Follow us on NIKO Facebook Page for updates and more insights leading up to the webinar.
Join us in shaping the future of data analytics with no-code Auto Machine Learning.
We look forward to having you with us!